AEFMP History

AEFMP history began in the early 90' ...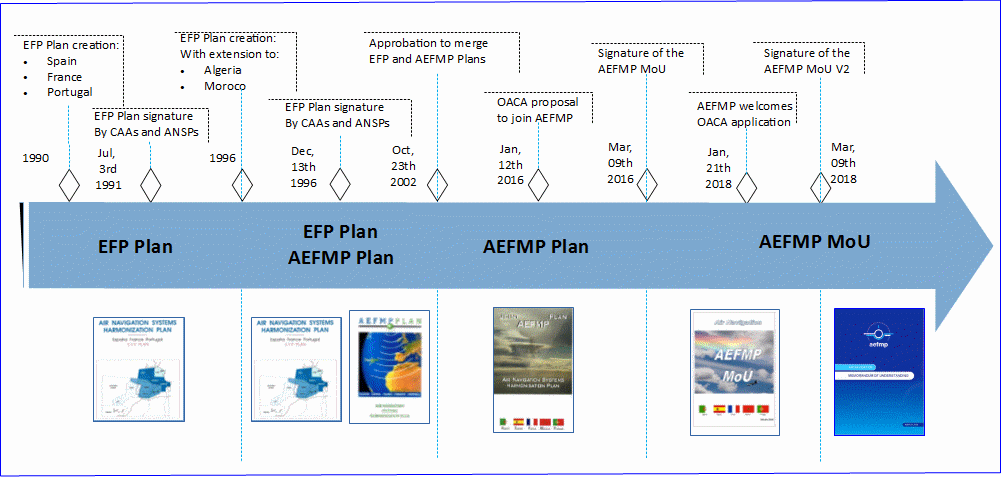 The AEFMP history is divided into four stages. Each stage is characterized by an agreement between its members, either Joint Plan or MoU, signed by them and member States and presenting the objectives they want to attain.
The first phase began in 1990 with the creation of the EFP Plan. In July 1991, the Civil Aviation Authorities/ Air Navigation Services Providers of Spain, France and Portugal, signed the EFP Plan in order to optimize, harmonize and integrate their Air Navigation Systems in the frame of EUROCONTROL EATCHIP Program.
In 1996, second phase was initiated with the agreement between Algeria, Morocco and the EFP members. The main objective was to optimize the most important traffic flows in the area. In order to achieve that goal, they sought to improve coordination and ATS systems interoperability between them.
On 13th December 1996, the AEFMP Plan was signed. This new Plan was developed in parallel with EFP Plan for six years.
The third phase came true in 2002 when Air Navigation Systems of Algeria and Morocco attained a sufficient level of maturity comparable to EFP members. In October 2002, the Joint AEFMP Plan was created. This represents the union between EFP Plan and AEFMP Plan.
On 12th January 2016, Tunisia officially asked to integrate the AEFMP. On 19th January 2016, the AEFMP Steering Committee approved the integration of Tunisia as an observer and asked the Working Group to work on the integration of a new member.
The Steering Committee validated the content of the renewed AEFMP MoU that was ratified by Civil Aviation Authorities/ Air Navigation Services Providers reoresentatives during the World ATM Congress in Madrid on March 9th, 2016 and in the presence of representatives of the European Commission.It aims at updating leading principles and reinforced cooperation arrangements to face next coming ATM (Air Traffic Management) developments stemming from the SES (Single European Sky) framework evolution and collaboration among the Aviation Community of neighbouring countries with which the AEFMP has been working since its foundation back in 1990.
The fourth phase began when, having celebrated its fifteenth anniversary, AEFMP welcomed Tunisia as new member. This event also took place during the World ATM Congress in Madrid on March 9th 2018.